Omicron
Delta
Epsilon

2017-18
updated: 9/2017

Chapter President tba eBoard: tba

The International Honor Society for Economics
Theta Chapter - Rutgers http://econweb.rutgers.edu/sheflin/ode.htm
Department of Economics
Rutgers, The State University of New Jersey
202 New Jersey Hall
New Brunswick New Jersey 08901-1248
848 932 7363 Fax (732) 932 7416 e-mail Sheflin@rutgers.edu

To join ODE – you must have at least 4 economics (220) courses completed at Rutgers New Brunswick with a 3.4 gpa or better (in 220 courses) and an overall gpa of at least 3.0. If you meet the qualifications, click here to complete the online application form. You will hear back from ODE with 2-4 weeks.

NEW – Interim Membership – if you have completed both Introduction to Microeconomics and Introduction to Macroeconomics with an A (or better) in each, you may sign up (here) as an interim member and participate in ODE events. Once you meet the requirements, you should apply for full membership.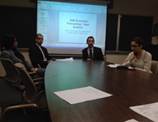 Welcome to the 2017-18 Academic Year and ODE
This site and the signup information below is for full members (or applicants for full membership) in ODE. See below for ODE full membership requirements. You are invited to attend all ODE events and activities once you have applied.
Planned Events for 2017-18 – note that you will receive email notification of date, time, and place for events – there are no regularly scheduled meetings.
"Meet the/a Faculty" a casual conversation with one of the department's distinguished faculty members. Find out what makes them tick, their hobbies, research, favorite color.
"Working at the Fed, and After" a roundtable discussion of internship and career opportunities at the various Federal Reserve Banks, and the Board of Governors, and how they fit into a career path.
"Quant Skills and Tools for Economists" demonstration and discussion of top tools for applied quantitative research
"So You Do/Don't Want To Do An Economics Honors Thesis" a discussion of why you should, and how -from those who know – current thesis students
"Voices of Experience" The annual panel discussion with former, and now older and wiser, members of ODE.
You should also consider joining RECONS, the Rutgers Economics Society http://rutgersrecons.weebly.com/
ODE - Omicron Delta Epsilon - Theta Chapter
The International Honor Society in Economics

Background. ODE is one of the largest academic honor societies in the world, dating back to 1915. The Theta chapter at Rutgers University in New Brunswick was chartered in 1969. In addition to fostering closer ties between students and faculty and enriching and expanding its members' knowledge of economics, ODE also provides international recognition of outstanding academic achievement in economics, awards a number of prizes for outstanding contributions, and provides opportunities to present papers at annual meetings and publish in The American Economist, the Journal of Omicron Delta Epsilon.

Eligibility. To be considered for membership, students must have a strong interest in economics and completed at least 12 credits of economics courses ( 220 courses) AT RUTGERS, and have a B+ (3.4) average in economics and a B average (3.0) overall. One need not be an economics major or minor.
You are invited to attend all ODE events and activities once you have applied.
Activities. See above

Additional information. Look at the ODE website: econweb/rutgers.edu/Sheflin/ode.htm or email Professor Sheflin sheflin@ rutgers.edu or check with the economics office 202 New Jersey Hall 848-932-7363